Install the NEW CoinClaim Chrome browser extension now! Be the first to earn more FREE CLM by participating in exclusive Quests and Challenges only available through the extension. Earn CLM not available on the CoinClaim.io website. Click here to install it now! Or click here to learn more about the extension.
The CoinClaim extension provides you opportunities to earn CLM doing what you do online normally. But now, as you browse, the CoinClaim extension will alert you to opportunities to earn CLM on the sites or search results you visit.
To easily install the extension, just follow these steps:
1. Click here to install the CoinClaim browser extension in Chrome
2. Login with your CoinClaim email and password
3. Earn a daily signin bonus instantly – it resets every day. Then watch for for the icon to light up with opportunities as you browse.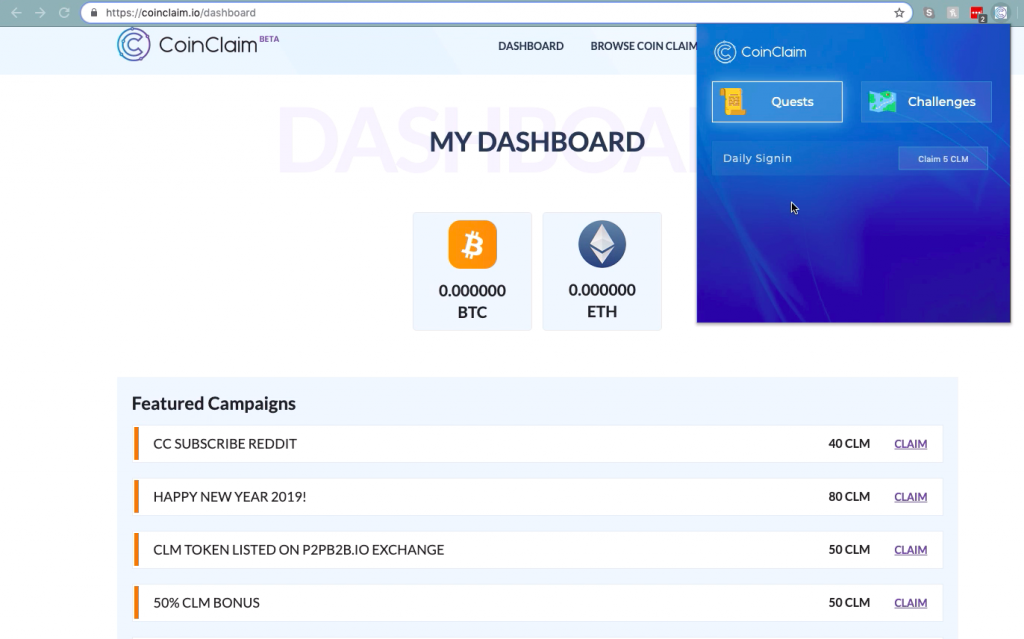 Or watch this video to see how it's done
After you install the extension, you will see the CoinClaim logo in the top right of your browser. When you are logged in, the extension will highlight when you visit a site offering CLM rewards. Additionally, as you search (in Google, for example), the CoinClaim logo will guide you to new ways to earn CLM. Just follow the logo on a quest or challenge and CLM will be added to your wallet once completed.
You can earn even more CLM by referring your friends. Just grab your exclusive referral link in the dashboard of the CoinClaim website and share with your friends. When your referral earns the required CLM, you will be rewarded with 50 free CLM.
CLM currently trades on three crypto exchanges. You can exchange CLM for BTC, ETH or USD. You can earn as much as you want. This is a great way to work from home completing tasks while you do what you normally do anyway.